Lately, electric bikes came into existence, but not so many people were convinced that the forefront means of transport would be meaningful to their daily lives. Electric bikes come in different types, price ranges and features. This article is primarily focused on those who are looking for an ebike under 2000 budget. We have spent more than 5 hours researching and hand-picking these bikes. All these bikes are of the highest quality, feature-packed and are from well reputed companies.
Thanks to God, however, times have changed and the market has expanded. Rather than spending more than $10,000 on a premium electric bike, there are lots of affordable options under $2,000, and grabbing the worthiest one should be the aim.
Best Electric Bikes Under 2000 – Comparison Table
| | | | | | | |
| --- | --- | --- | --- | --- | --- | --- |
| | | | | | | |
| | NCM Moscow Plus Electric Mountain Bike | | | | | |
| | ECOTRIC UL Certified 750W Electric Bike 26" Fat Tire Adult Electric Bicycles | | | | | |
| | Addmotor 20" 750W Cruiser Electric Bike for Adults, Electric Bicycle | | | | | |
| | TESGO Hummer Pro 48V, Folding Electric Bike for Adult | | | | | |
| | HITWAY Electric Bike for Adults, Lightweight Ebike | | | | | |
| | ENGWE 750W Folding Electric Bike for Adults-aluminum Electric Scooter 7 | | | | | |
| | YinZhiBoo SMLRO Electric Bike E-Bike Fat Tire | | | | | |
| | GESHENG A4 Adult Electric Bicycle for Daily Commutes, Cross-Country Ride | | | | | |
Best Electric Bikes Under 2000 – Product Reviews
1. NCM Moscow Plus Electric Mountain Bike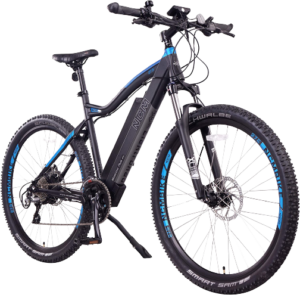 Quick Features:
Das-Kit X15 Drive motor 48V 500W
Rechargeable Lithium ion DEHAWK I5 battery, 48V 16AH, 768WH, with USB port
Light Aluminum Frame
Hydraulic disc brake for safety
Average range: 30-60+ depending on assistance level selected
Fork: Suntour, XCM with lock-out option so you can go rigid and climb without sacrificing energy.
In short– This ebike is superb! Because the manufacturer kept everything people loved about the highly demanded Moscow, and then built a supercool and efficient Moscow Plus. Most of all, they offering you a performance packed cycling machine at an unbeatable value. No doubt Moscow plus has more than enough to satisfy even the hard-core trail blazers.
One of the unique things that MOSCOW PLUS posses is Das kit HUB motor system which is not only fun to say, it's also fun to operate. It offers exceptional range and user-friendly controls. The Das-Kit C7 high contrast LCD display with detachable controls is complete and easy to read. On the screen you will find battery life, assist level display, speedometer, odometer, trip 1, and trip 2.
Pros
Customized preload adjustment

Budget friendly premium ebike

Digital screen control 

Plush ride with fun

Ergonomic lock-on Velo grips

Maximum distance coverage up to 60+miles
Cons
Larger display on handlebar 

Battery may get off while lifting and transporting because e-bike weighs more than average trail bike.
2. ECOTRIC UL Certified 750W Electric Bike 26″ Fat Tire Adult Electric Bicycles
Quick Features:
750W brushless geared hub motor
Outage braking system and Hydraulic Disc brake ,work along both lines
7 Speed system
Max Speed 20 MPH by Default (Rider weight<132LBS ,flat road and full power), it can be set higher according to the instruction.
Alloy Frame with Streamline Design
Pure electric power mileage : over 25 miles
If you are planning to have some change in your way of riding or if you are trying for some physical fitness , say goodbye to the excuse of no time to exercise, travel is a sport, say goodbye to the reason of no sports place, the road is a sports place. Go for an outing, go for a tour, across the city and over the mountains, it's easy to be there. Along with it, you'll find the fun of exercise.
The design comes with  powerful brushless geared Hub motor, allowing it to reach speeds of up to 20 MPH (Rider weight<132LBS ,flat road and full power) .Additionally , it adapts to various terrains due to – 26 X 4.0 fat tire, durable all condition road, more than safe, balance, fast and stable for your cycling.
Pros
Anti-skidding Fat tyres,adapt to snow, sand and other complex topography

Secure ride due to dual disc brakes

UL certified or applicable to US safety standards

Comfortable ergonomic structure

90% pre-assembled.
Cons
Slow ride due to Fat tyres.

can be harder to control.

Expensive maintenance
3. Addmotor 20″ 750W Cruiser Electric Bike for Adults, Electric Bicycle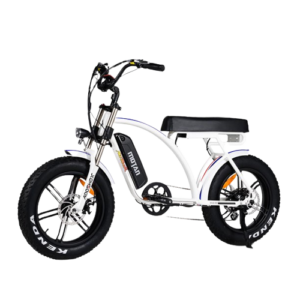 Quick Features:
Fast Speed due to powerful 750-watt Bafang hub-drive motor
Addmotor 5 Inch LCD Display with Smart Light Sensor
Variable Speed Control — 1/2 Twist Throttle
Adjustable handle bar &upgraded suspension fork.
Single Charge Can Up to 55 Miles Using Pedal Assist Level One
Water resistant Connectors and Wiring Harness
Aluminum Alloy Integral Wheel
Addmotor MOTAN M-60 R7 is all-rounder electric urban beach cruiser bike and a great choice for fun lovers, ready-for-adventure transportation. Classic styling merges cool retro with modern e-biking technology. Natural upright riding position, long plush bench seat and adjustable handlebar make it a comfortable to ride.it covers Up to 55 miles (PAS) per charge. Working mode as a pedal assist, muscle power or throttle. Ride it anywhere you want!
The MOTAN M60 L7(R7) cruiser bike has a 75- watt brushless DC hub motor that is superb in power. Ride easily with pedal assist. It can easily overcome bumpy and uneven terrain. A 17.5Ah long lasting lithium battery will give you enough boost to go long distances– even 55 miles on level on pedal assist. The battery is removable so it can be recharged anywhere.
Pros
Long lasting battery, so you can enjoy trip

Integrated lights for safety 

Classic design in tribute to 70's

Comfortable plush longer seat
Cons
The bike is relatively large and Heavy weight

Not ideal for short heighted people
4. TESGO Hummer Pro 48V, Folding Electric Bike for Adult
Quick Features:
750W powerful motor.
Dual fork and shock suspension
Shimano 8-speed transmission system
All-Terrain Snow Fat Tire 20″x4.0
Built-in a large 48V/14.5AH lithium battery, it supports 40 to 70 miles ridding for different modes.
Easily foldable.
It is perfect for commutes to work, a day's adventure trips on weekends, or a round trip. A removable battery with a lockable key can be charged at home or indoor office, which is more convenient and safer. Even on a rainy day, you can still ride this folding bike because of its water proof components so, be ready to enjoy the ride on muddy, bumpy roads!
Peak power of is 1000w, the electric bikes is equipped with a 750W high-speed brushless motor, the max speed can be up to 30-32mph. This electric bicycle is providing enough power for climbing or a big loading capacity, which is not only for the daily commute but also for mountain climbing trips with you loved ones. 
Pros
Water proof &Detachable battery

Dual suspension system for safe and comfortable ride

Puncture resistant tires.

For all terrain ride.

The frame of aluminum alloy is a ultra-light weight, but strong and durable material.
Cons
Slow on roads

Expensive maintenance
5. HITWAY Electric Bike for Adults, Lightweight Ebike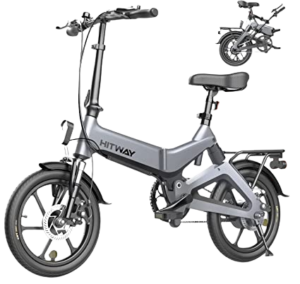 Quick Features:
High performance 250W motor
Easily foldable
15.5MPH maximum speed
Removeable lithium battery
16-inch vacuum tyres has excellent grips and cushion ability.
Build in LED electronic brake system for safety
3 Riding models: pure electric riding, assisted riding and normal riding.
If you are tired of bulky things around you and want to have some fun with portable light weight ebike then HITWAY Electric bike is best thing to opt. The body of this electric bike is made of magnesium alloy material, which has high strength, light weight and corrosion resistance, and weighs only 49.6 pounds. It can be folded quickly in just two steps, and the folded size is 77*43*70cm, which can be easily put under the table, helping you to travel freely and smoothly.
Don't worry about its small frame size because of its Deep serrated anti-skid design and aluminum alloy one-piece wheels make our 16″ bike tires stronger, more stable and safer, with front wheel shock absorption and rear mid shock absorption to help you easily deal with all kinds of road conditions and shuttle independently in the streets and countryside.
Pros
Light weight and extremely portable

Less than a minute required to fold and unfold the ebike.

It has greater safety and comfortable ergonomic structure

Pocket friendly
Cons
Not suitable for all terrains
6. ENGWE 750W Folding Electric Bike for Adults-aluminum Electric Scooter 7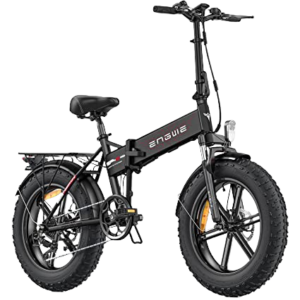 Quick Features:
8V 750W brushless gear motor
20*4 INCH fat tires 
7-speed transmission system
48V removable lithium battery
Half twist throttle technology
Foldable alloy frame
Shock absorber fork
EP-2 PRO electric bike is styled in 6061 aluminum alloy frame, mechanical lock front suspension fork and adjustable seat and handlebar, which match different height and riding style for a great riding experience. With the lightweight and efficient design, aluminum alloy 20-inch wheel suited to both urban and trail environments in good road condition.
Pros
Low carbon, environment friendly engine

With a wide tire surface, this ebike enables you to ride smoothly rugged roads,sandy,steep and hills.

With front ambient light you can also ride through gloom and flog safely.

Easy to assemble
Cons
Not fit for pedaling without pedal assist

Heavier than you expect.
7. YinZhiBoo SMLRO Electric Bike E-Bike Fat Tire for Trail Riding/Excursion/Commute UL and GCC Certified Electric Bicycle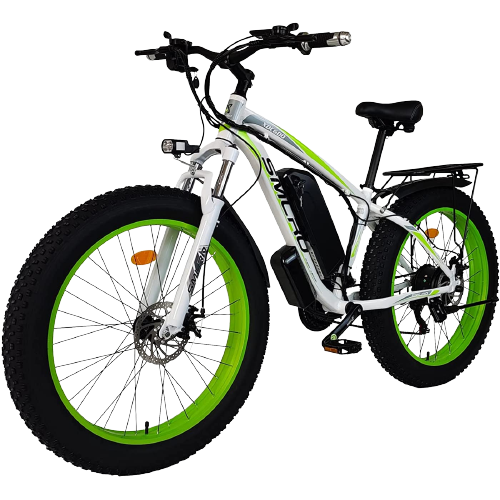 Quick Features:
1000W High-Speed/Brush-less Geared/Waterproof Motor
Battery:48V13Ah (624W) Removable Li-on Battery, Fully Charged in 4-6 Hours
Charger: 48V 2A US Standard DC Smart Charger
26" x 4.0" Fat Tires
Solid aluminium frame with attractive color
Max Speed: 25mph,Distance:31-42 mile
Adjustable seat post.
variable speed control throttle with 3 working modes.
If you are fond of cycling trip around the town, then you must be aware that long lasting and quick battery charging is one of the key factors to maintain the chain of your unstoppable journey so, in this regards YinZhiBoo SMLRO Electric Bike is perfect for you!
The bike is equipped with 48V, 13AH detachable lithium battery, so you can bring the battery to your home or office to recharge. Its charging time is Approximately 5-8 hours, 2000 cycles of charging, 1000W high-speed brush-less and Shimano 21-speed gear motor can easily. Additionally,  YinZhiBoo SMLRO also meets the Federation limits therefor every one who owns this ebike can experience great when riding this e-bikes. 
Pros
Powerful Water proof motor ,so you can enjoy riding in Rainy days also.

Comparatively long battery life with fast charging.

Suitable for all terrains.

Intelligent control digital LCD display.

Easy to assemble and of high quality.
Cons
Costly maintenance

High speed up to 42mph so difficult to control.
8. GESHENG A4 Adult Electric Bicycle for Daily Commutes, Cross-Country Ride
Quick Features:
350W powerful motor 
Pure electric mode: 35-45 miles/55-70km.
Pedal-assist mode: 50-65 miles/80-100km.
Lithium ion battery of 48V 12A,long lasting
Max speed is 21MPH.
26*2.1"CST tires, professional mountain tire
High Strength Fork Suspension& Dual Discs Brake
This A4 adult electric bicycle is the flagship series of our brand GESHENG for 2021. With upgraded 48V 12AH battery and powerful 350W motor, it will give you the faster speed, longer range and easier climbing. Featuring 3 ride modes, human body mechanics frame, and front suspension fork, you will enjoy the ultimate balance of comfort and power. Exactly perfect for your daily commuting, mountain off-road riding.
Additionally, the company has prepared the fender and rear rack as gifts for each our valued customers, come with one-year warranty that applies to battery, motor, controller, dashboard and charger.
Pros
85% Pre-assembled, easy to finish assembly by yourself.
The electric mode is suitable for long-distance travel, PAS mode provides a personalized                  riding, fitness mode helps you exercise.
With mechanical dual disc brakes and high strength shock-absorbing forks, provides secure comfortable riding experience.
It possesses Energy recovery systems and convert partial energy to the electric power, increase 10% battery life.
cables are designed with waterproof function. Make sure you can ride on the rainy days safely.
Cons
Can be slower on Roads 
Not ideal for overweight people.
Best Electric Bikes Under 2000 Buyer's Guide
After having a look at our top picks of the best sub $2000 e-bikes on our list, let's first go through a couple of things that you should consider when buying an e-bike.
The Addmotor 20″ 750W Cruiser Electric Bike may be the most expensive e-bike on this list, but that does not take away the fact that it has a combination of features that make it stand out. The energy boosted bikes would be a good option for the rider who is keen on having a bike that meets their off-roading or on-roading needs in the best way possible.
ECotric and Gansheng is a good brand too. Their bikes are perfect if your main purpose is to use the bike for commuting. TESGO is excellent too, it has features that make me go wow since they are too good to be true. But on the flip side, the bike has good user reviews on Amazon which is more important to consider.
Best Electric Bikes Under 2000 FAQ'S:
1. Other than 250watts what's the difference in 750w and 1000w. 1000w is slower? everything else is the same?
Answer:  The bike weighs 65 lbs and I weigh 210. The added power allows me to cruise at 15 mph on the standard setting. Cutting the available power by 25 percent would clearly slow me down. 
2. What is the Seat post size of the ENGWE ebike?
Answer: The post that comes with the bike is 33.9mm in diameter, with a plastic tubular shim to make it fit the 36mm diameter 'hole' in the bike's frame. So, if replacing the post, you need a 36mm post or a smaller post and shim it to 36mm.
3. How well does the pedal assist work on hills? had a previous ebike that did nothing for me on hills?
Answer: The short answer is it offers a lot of assist on hills. Probably depends on the weight of the rider, but for me, it helps me (about 165 lbs) up the hills even on the lower assist settings. Some people still need to pedal on steep hills, but it does assist the entire way up the hill.
4. How does a hybrid electric bike work?
Answer: An electric hybrid bike is just like a normal hybrid bike but equipped with an electric motor that gives you additional power to your pedaling action. This can help you get some exercise or move around quicker and more comfortably.
5. What is the difference between an e-bike and a hybrid bike?
Answer: In general, an electric road bike is built to be fast and efficient on the paved road while a hybrid e-bike is capable of going off-road as well. But there are many other things to compare as well when deciding which one is right for you.
6. How should I look after my battery?
Answer: Generally speaking as long as you don't leave your battery for long periods of time completely empty and you top the battery up after each ride, this is all you need to do.
7. Do I need a license to ride an electric bike on the road?
Answer: No not at all, again treat it the same as a regular bike. You will only ever need a license if you exceed the specified specification of EU law. Green Hybrid Bikes Adhere to US Law, all our electric bikes can be used anywhere without the need for a license.
8. DOES IT MATTER IF THE ELECTRONICS GET WET?
Answer: Generally speaking the electronic items on all of our electric bikes are sealed units, from the motor to the battery to the head unit. They are all weatherproof and have been designed for all-purpose use i.e. mountain biking, where occasionally there are deep puddles. Your eBike is expected to be able to handle this without any issues. If possible, try not to completely submerge your eBike. If you fall into a lake, for example, make sure the bike is recovered quickly, along with yourself. Allow the bike to dry off before turning it back on and returning to the trail.
9. HOW FAST CAN E-BIKES GO?
Answer: Most electric bikes in Canada will provide you with assistance up to 32kph.
10. THROTTLE OR PEDAL ASSIST, WHICH IS BEST?
Answer: When e-bikes first arrived on the scene a number of years ago the sensor technology was not as well developed and there was a noticeable delay between applying pedal pressure and the e-bike motor engaging. So, at that time, a throttle was advantageous, especially when starting on a hill. We have found, though, that a number of riders with throttle capability tend to rely on their throttles often and treat their electric assist bike more like an electric scooter, and they rarely pedal. With the sensor technology available in the latest quality electric assist bikes, especially on mid-drive motors, a throttle is really not necessary.
Conclusion
It goes without saying that the e-bikes featured in this buyers' guide are definitely worth consideration. All of these bikes are best in their own sense. But, which is the best electric bike under 2000 then? Well, it depends. While some people may like the sporty type of bike, others may prefer the compact, luggage carrier type. I will try to give my two cents here.
My top pick would be YinZhiBoo SMLRO Electric Bike E-Bike because it offers the best combination of performance, comfort, and value for money. The second pick is Addmotor 20″ 750W Cruiser Electric Bike definitely. Their bikes are of the highest quality and their customer satisfaction is excellent. Coming to utility bikes, I personally don't like them but if I had to buy one, I would go with Juiced Scrambler, it has rave reviews and good specs but is a bit more expensive. Overall, every e-bike included in this buying guide is surely worth a look