The number of seniors getting into e-bikes has blown up day by day because they evolved as low-impact and user-friendly modes of workout not only this they have also been proven to help maintain mental health and cognitive behaviors among older riders. The fun and joy of riding make them fresh and boost the Self-Confidence of older people who may feel unhappy due to mobility issues. Although, age is just a number you must have an active body to enjoy adventurous riding across the city and uphills Thanks to their small motor and battery, make it is easy that anyone can enjoy going for a bike ride with intelligent control. E-bikes help to conquer all terrains easily, offers accelerations easier, and give rider more options with different working modes to ride safely.
So if you're a senior and looking for an e-bike that matches the criteria of your comfortable riding then you are on the right platform as we've spent a lot of time hunting the best electric bikes with perfect braking, handling, stability, ergonomy, and acceleration to get the best riding experience then ever! So let's get started
Best Electric Bikes For Seniors – Comparison Table
| | | | | | | | |
| --- | --- | --- | --- | --- | --- | --- | --- |
| | | | | | | | |
| | Hey bike City Scape E-bike | | | Neighborhood, Urban, Commuting,Travel | | | |
| | | | | | | | |
| | Swagtron Swagcycle EB-11 E-bike | | | | | | |
| | Aventrek Cybertrack 200 E-Bike | | | Snow,Beach,city , uphill cruise | | | |
| | Viribus, 26" Electric Bike | | | Daily Commute,Urban ,uphills | | | |
| | MICLON CBT 100 Electric Bike | | | commuting, exercising or field exploring | | | |
| | Jasion EB5 26" Electric bike | | | Neighborhood, Urban, Commuting,Travel | | | |
| | VIVI FM026TGB Electric bike | | | | | | |
| | | | | rocky roads, sandy beaches, snowy suburbs and uphills | | | |
Best Electric Bikes For Seniors –

Product Reviews
1. Heybike Cityscape Electric Bike – Best Comfort Cruise for Seniors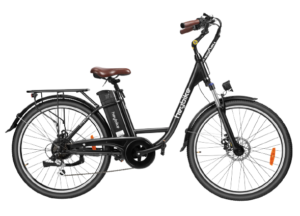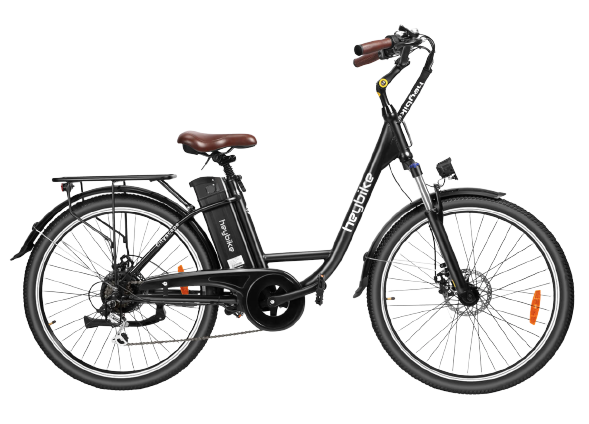 Key features
Powerful 350w Brushless hub motor
Detachable 36V lithium battery
Distance coverage: Up to 25 miles(pure electric)/40miles range per charge (pedal assist)
Max speed 9mph
Dual shock absorb suspension&brakes
Low step-thru frame 
3 working modes
Shimano 7-speed transmission
26" wheel size
59 Pounds item weight
Hey, bike electric bikes are famous for their hybrid technology e-bike comprise both modern technology with traditional bicycles to produce eco-friendly e-bikes low-carbon, high-quality electric bikes that will save your environment and time. This model is a feature-complete, approachable step-thru, a comfort-oriented, hybrid electric bicycle with a long-range removable battery. With all the benefits of the Cityscape, It's perfect for improving the commuting experience. The geared hub motor provides more torque from the standstill and for climbing with smooth acceleration and less noise. Use a high-resolution 12-magnet cadence sensor, which makes starting and stopping more predictable. Thanks to its 36V/10AH large capacity battery, which will give enough juice to boost your ride with a max travel range of up to 25 miles under pure electric mode and 40 miles in pedal-assisted mode. Also, a Quick removable modular battery lets you can charge the battery pack on or off the frame easily.
Moreover, You can easily Customize your ride performance with the Shimano 7-Speed gear system. A wider range of gearing offers torque for the treacherous uphill climb and maintains pedal control at top speed. this e-bike is made of durable material and the cogs are nickel coated, which makes them rust resistant and a lot smoother to shift. it consists of Pure electric mode & Intelligent 3- level pedal assist mode and manual mode (pedaling) means that you will be ready for whatever road condition comes and It's easy to choose the way you like to ride. Dependable stopping power that you can trust, for maximum safety thanks to dual-disc brakes that you can adjust to your liking. 
Additionally, Cityscape comes with an integrated headlight and brake light! The headlight offers a bright 270-lumen center beam very luminous and a unique LED circle to keep you seen clearly at night, while the rear light offers solid, flashing, and bright mode when the brakes are activated in this way Cityscape offers a smooth and comfortable ride.
Pros
Powerful eco-friendly motor

Long battery life

Comfortable seats and adjustable handlebars

Enhanced safety with dual light and brake

Integrated rear rack 

Easy to maneuver

Cost-effective
Cons
No Brand warranty available

5'4"-6'5"    recommended height for users
2. SOHOO Step-Thru/Step-Over S115 – Best Mountain Electric Bike For Seniors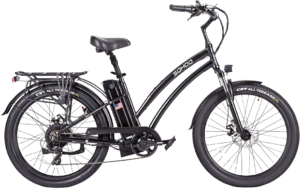 Key Features
Sturdy 500 Watt Rear-Drive Motor
48V13Ah removable Lithium battery
26" fatty wheel
Max speed 25mph
55-65 miles Distance Coverage
Disc brakes
Available in step-thru and step-over frames
4 working modes
Digital M5 display
66Ibs item weight
This Model is Inspired by those long rides up and down the coast, this electric beach cruiser design will make your trip a breeze while riding in style. Whether you are out for a short cruise to the beach or a long trip, the relaxed and laid-back riding position is all about comfort and ease allowing you to enjoy the scene you love with a large capacity 48V13Ah removable anti-theft Lithium battery (you can bring it to your home or office to recharge)also the 500 Watt rear-drive motor is the core components to provide excellent quality performance and will help you reach 25mph with ease. Features the Step-Over / Step-Thru high-quality aluminum alloy frame with enhanced Shock front fork for safety also it has a detachable and sturdy Luggage Rack, and a 30.8mm aluminum high-end belt clip saddle that can withstand 325 pounds. It will give you a great experience!
This bike has 4 working modes(Walk mode: 3 miles/hour, Throttle Mode: you do not need to ride, Pedal-assisted Mode, you can do some exercise (Using PAS 0: no power; PAS 1: The speed is 8MPH, the cruising range about 55~65miles; PAS 3 and the Regular bicycle Mode: also you can choose to turn off the power, then like a regular bicycle to ride.
The Sohoo is installed with a Shimano 7S drivetrain and provides accurate and smooth shifting to ensure safer travel. Additionally, an LED integrated headlight, and A LED rear light, increase visibility, and safety in both daytime and night strong Braking power shutdown system & 180mm Double Disc Brake delivers incredible stopping control at the tip of your fingers.
Pros
Efficient Motor

Quick battery charging

An intelligent display system will offer more safety

Low step-thru frame

High quality

Smooth ride on bumpy and uneven tracks

90% pre-assembled
Cons
Slower for roads due to wider wheels

Difficult to shift between working modes for beginners
3. Swagtron Swagcycle EB-11 – Best City Commute E-Bike For Seniors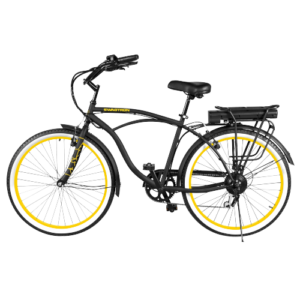 Key Features
250W motor
36V 7.5Ah Removable Large capacity Battery
15.3 MPH Maximum speed
28 miles Mileage
26" wheels
Shimano SIS 7-Speed Gear system
Caliper brakes
4-5hours charging time
3 working modes
It weighs 50.7 lbs 
The EB11 is a vintage-style design created for maximum comfort, with a deep-sweep handlebar that helps you ride with a more relaxed posture. No more strain on your shoulders or lower back. And the seat post height can be adjusted to find the proper fit and make your ride even more comfortable.
The power system to balance the output between the 36-volt battery and the high-torque, 250-watt motor. This technology delivers a solid distance traveled per charge before you'll need to charge the battery again. With a Shimano 7-speed index gear system the EB11 is even more versatile. you can Find the perfect gear with accurate index shifting and conquer difficult hills and inclines. With Shimano, you have the riding control and flexibility that you need for a truly joyful ride. Thanks to 26-inch wheels and the 2.125-inch wide cruiser-style tires. This wheel-tire combo delivers amazing shock-absorbing qualities that make rocks and imperfections in the pavement all but disappear. And no worries about bumps.
The best ergonomic structure will make you feel superb because the cushioned, extra-wide, spring-supported saddle seat adds even more support from rough rides. Moreover, its lightweight design is enough to fit in most passenger bags and backpacks with room to spare. The EB11 looks great and rides even better. On throttle alone, you can cruise as fast as 15.3 mph for up to 28 miles on a single charge. Switch to pedal-assist for that extra push when you need it, or when you simply want to ease into the ride with fun.
Pros
Long-lasting battery 

Highly comfortable

Lockable battery to maintain the stability

The classic and curvy design

Good Shock absorbing 

1-year company warranty
Cons
Not suitable for all terrains.
4. AVANTREK Cybertrack 200 – Best Folding E-Bike For Seniors
Key Features
500W Powerful Brushless Motor (750W Peak
48V/10Ah lithium-ion battery
28 MPH maximum speed
Foldable
Fully charged in 3-4H with 3A charger, 1.5X faster than 2A charger
20" Fat tire
Mechanical disc brake
Throttle: 25-28 miles; Pedal assist: 32-50 miles
Rigid suspension
56.88 Pounds item weight
CBT 200 is a powerful e-bike with  750W of peak output and 55Nm of torque for all of your on-road and off-road adventures. The high-speed brushless gear hub motor can help you conquer the most rugged terrains easily It boosts the fat bike's top speed to 28 mph by pedal, allowing you to climb 15° hills effortlessly while reducing stress on your knees and thighs. This model is equipped with 3A fast charger to fully charge a 480Wh battery in 3- 4 hours. The UL Listed 48V/10Ah lithium-ion battery can be easily removed without any tools and locked with a key for safe storage, convenient to charge on/off the bike. You can cruise for 25-28 miles in all-electric mode and 32-50 miles in pedal-assisted mode
An intuitive, easy-to-read display keeps track of your speed, battery charge, pedal assist level, distance traveled, and more. This perfectly placed LCD screen visualizes your ride data, giving you high levels of confidence and fun in navigation
Take your e-bike anywhere just in 3 easy steps. It perfectly fits in your RV, SUV, boat, or living space. 20″x4″ versatile and puncture-resistant knobby fat tires provide you with a stable, comfortable, and confident ride on a wide variety of terrains like snow, beach, desert, or traditional mountain biking rails with adjustable seat and handlebar to match different heights and riding styles for a great adventure experience. Ergonomically designed soft seat cushion, wider and softer, can protect your sitting bones and back during riding, assisting you to ride farther, easier, and more comfortable 
Pros
Quick Folding

Puncture resistant tire

Fast charger 

Comfortable ergonomic design

Suitable for all terrains

Adjustable frame

Large Backlit LCD Display

1`year brand warranty
Cons
The cable management could be a little tidier.
5. Viribus, 26″ 350W Motor – Best Budget Friendly E-Bike For Seniors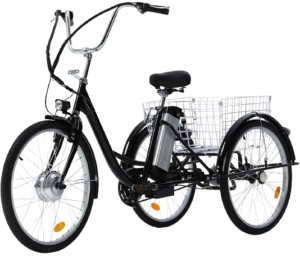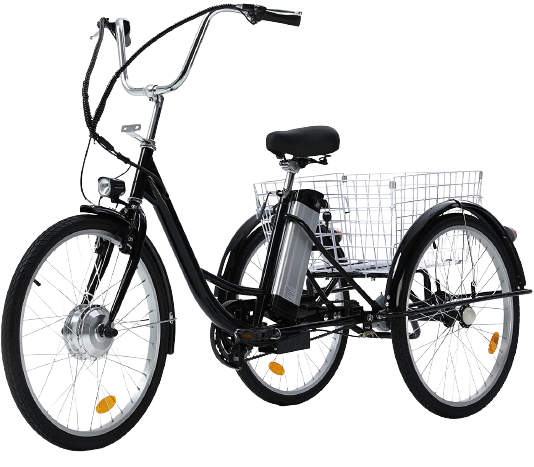 Key Features
350W Brushless Rear Hub
48V 10.4Ah Lithium Battery
20 mph max speed
26 inch wheels
34.2 miles coverage
front suspension fork
Dual disc brakes
E-bike weighs 45lbs
This 350W electric mountain bike from Viribus will get you uphill, downtown, and around your neighborhood faster and easier than ever; the eco-friendly brushless rear hub motor shortens commutes and blazes down trails! The e-bike is equipped with a 48V 10.4Ah lithium battery which is lockable, recharges from zero in 5 hours and faster when starting from a partial charge, and provides over 90 miles of range in hybrid mode. Additionally, the riders on level paved roads can expect to get over 34 miles even when cruising along at full speed throttle control.
This model has a standard 21-speed mountain bike with professional Shimano thumb shifters and derailleurs with an adjustable max speed up to the 20mph legal limit and as a pedal-assisted electroplated with three levels at 60%, 80%, and 100% of your top speed
This model possesses Durable Construction and a lightweight aluminum frame. When it's time to exercise or just stretch your legs a little, the professional thumb shifters on each handlebar keep gear changes fast and simple, offering more speed or torque right at your fingertips as you fly through straightaways or backwoods trails. Thanks to its IP65 rated weatherproof, 26″ electric bike is ready for getting you where you need to go safe and sound while hauling up to 330 pounds on the rugged. Featuring the front and rear disc brakes handle the fast speeds of motorized use safely and reliably, allowing even and steady control on straightaways and inclines. The integrated brake levers instantly shift the motor to neutral whenever activated. this e-bike is fun to ride.
Pros
Lightweight

Heavy duty tires

Durable construction

Intuitive control with IP65 LCD

Fast charging

Great safety and comfort

Weatherproof
Cons
Warranty not available

Expensive charger
6. MICLON CBT 100 – Best Trailing E-Bike For Seniors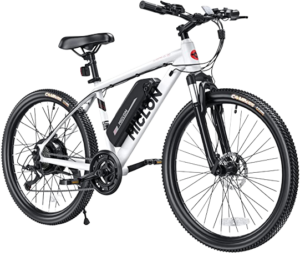 Key Features
350w bafang hub  motor
36V 10Ah removable battery
4 Amp Fast Charger
26-inch wider wheels
Throttle: 22-25 miles; Pedal assist: 30-40 miles
Fronk fork suspension
7-Speed Shimano gear system
50.79Pounds
Convenient rear rack
An ideal electric bike built for city streets, town pathways, mountain paths, or other open roads. Whether it is for commuting, exercising, or field exploring, Miclon will be the perfect choice for you. Features 350W BAFANG brushless motor generates great power with a top speed of 20mph. BAFANG motor as one of the top-level e-bike motors has higher output efficiency and requires less maintenance compared with other normal motors.
This model is equipped with a 36V 10Ah battery, this bike allows riders to travel up to 40 miles per charge in pedal mode. The removable design keeps your battery away from damage and theft, giving you full confidence to go far away. thanks to the low step-through design make it easier to ride. Configuration of the rear rack enables you to carry anything you need(including kiddos). 
The installation of the Shimano 7-speed drivetrain ensures easy riding and low maintenance. And with three mode options: Throttle (bike) / pedal-assist / normal bike, you have multiple choices to keep fun when riding through wide roads, bridges, and crowded alleys.
The height-adjustable seat and front handlebar can give you an upright riding position, a Cushy saddle, and an ergonomic radian handle to keep you comfortable, so you can focus on exploring the world around you.so, With MICLON you can go wherever you want to go, do whatever you want to do, and become the person you want to be.
Pros
Sleek design

2x fast charger-Charge this bike in just 3 hours from 0 to 100%

Long battery life

Overall best ergonomic design

Easy to assemble

BAFANG brand motor is optimized for higher power efficiency and less maintenance.

Smooth ride on even bumpy roads

Dust-proof port cover

Over discharge and voltage protection

1-year warranty
Cons
Not suitable for heights less than 5.5 feet
7. Jasion EB5 26″ Tires – Best Daily Commute E-Bike For Seniors
Key Feature
350W Powerful Motor
36V 10Ah Large Removable Battery
19-25 miles (pure electric)/ 25-40 miles(PAS)
20 MPH max speed
Front Fork Suspension
Intuitive LCD Display
26″ Tire E-bike
Shimano 7-Speed Gear
Headlight & Taillights
49.6 lbs item weight
Jasion EB5 electric mountain bike applies the classic mountain bike style. It is equipped with 36V/10Ah (360Wh) batteries and a 350W brushless motor to ensure long charge life and excellent street-riding performance (speed up to 20 mph)it offers a range of up to 40 miles on a single charge. It is Equipped with 26″ tires, 3 pedal assist modes, and a trigger throttle, 
In addition, the upgraded LCD Display provides more powerful data support, such as precise percentage power display, ODO RT/MAX/AVG SPEED, and PAS mode can be customized up to 3 modes. The 26″ puncture-resistant tires are for greater durability. A high-strength front fork suspension, Shimano 7-Speed gears, dual lights, LCD, and front and rear mechanical disc brakes can take your riding more comfortable, make your e-bike adapted to complex road conditions and keep you safe. The high-carbon steel suspension fork has 100mm of travel, preload adjustment, and lockout. It reduces the feeling of bumps when riding on rough roads.
Additionally, The sensitive brake system with the front and rear 160mm disc rotors can provide sufficient braking force even in the harshest conditions. Jasion EB5 e-bike makes it easier for you to travel between city streets.
Pros
Sturdy 

Light weight durable frame

Upgraded LCD for safety

Puncture resistant tires

The eco-friendly motor produces zero carbon

Affordable with all inbuilt features

Comfortable and adjustable

Installed with IPX4, waterproof
Cons
8. VIVI FM026TGB 26" – Best For Money Ebike For Seniors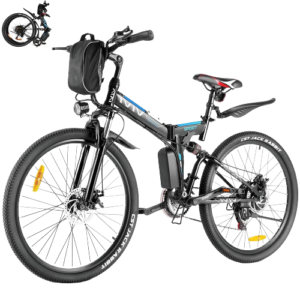 Key Feature
Folding E-bike
350W high-speed brushless gear motors
36V/8Ah Lithium Ion Battery
Maximum speed: 25km/h(Electric)
26inch wheel size
Front fork dual-suspension
High-strength carbon steel comfort shock absorption
Mileage: Throttle mode(22-25miles)-Pedal assist mode(44-50miles)
21 Speed gears
Disc brakes
Bike weight: 29kg/64lbs
If you're looking to explore some new trails, expand your weekly ride routes, and have some fun doing it, the vivi FM026TGB electric bicycle has the perfect blend of trail performance and power to give you the ride of your life. This E-bike is equipped with a 350W high-speed brushless motor, having a longer life span and faster starting speed. With the Lithium-Ion battery with the 36V 8 Ah and energy-saving system, you can reach a range of up to 22-50 miles per charge. You can charge the battery on/off the bike at your convenience, it only takes 4-5 hours to fully charge. The shock front fork is made of high-strength carbon steel and with and quality rear shock absorber, Double shock absorption will absorb bumps on the way down the trail and can take your riding comfort.
Mechanical front and rear disc-brake design and 21-speed professional transmission system, multiple selections of speed gears, offers all-weather stopping power helping you ride more smoothly on uphill, downhill, and flat roads, perfect climbing ability. so, It can be mountain bikes, also suitable for urban cycling and commuting. For an adjustable handlebar making small changes can bring about noticeable improvements in comfort depending on what you're trying to achieve 
Motor, battery, controller, and dashboard are guaranteed for 1 year, we also provide front and rear fenders for free
Pros
Strong brushless motor

Quickly Folds and can be stored under the trunk of your car

4-hour fast charging

Adjustable handlebars with good grip

Soft, cushioned, and correct positioning while riding

Double shock absorption to prevent jerks

High quality and durability
Cons
The handle could be curved for better grip

LCD system is not upgraded
9. HIBOY P7 27" – Best Heavy Duty E-Bike For Seniors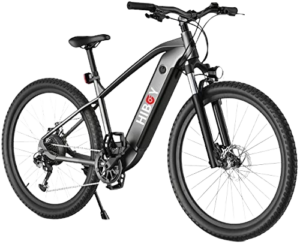 Key Features
500W Powerful Brushless Motor
48V 15AH Removable lithium-ion battery
mileage:37 miles
28 mph maximum speed
27.5" Pneumatic tire 
[3 Riding Modes]: Pure electric mode, pedal-assist mode, classic bike mode
Multi-function LCD Display
Adjustable suspension fork 
High luminance headlight
9 SPEED/MTB Professional Shifter
 75lbs item weight
HIBOY P7 Ebike adopts a quick-assemble design, which is very easy to assemble your bike Featuring the 500W motor combined with a 15AH 48V LARGE Battery and Shimano 9-speed rear gear allows you to easily reach a speed up to 21+MPH, The battery is lockable and secured for anti-theft and avoids drop-out during furious riding. the battery's large capacity also ensures a long range of 37 miles(By Throttle)-68 miles(By Pedal) in Pure electric mode, pedal-assist mode, and classic bike mode
Additionally, this model is Equipped with a professional suspension front fork and Seat Post. 
The wider tire conquers all kinds of rough terrain including snow, beaches, rugged mountain roads, etc., No matter what the terrain is, you will feel less fatigue and enjoy smoother riding.ts. Whether it is to explore new trails outdoors, get in some exercise, or rush into work or errands, these adult electric bicycles will always be your most dependable partner. the intelligent LCD Provides more real-time driving data, including speed, riding time, mileage, and remaining power. This e-bike is suitable for traveling in places like downtown cities, rocky roads, sandy beaches, snowy suburbs, and dirt mountains, making your e-bike adapted to rugged road conditions
Pros
The strong motor produces maximum torque of 70Nm

The large capacity battery of 15Ah while others are 10Ah

Perfect gear shifting 

An adjustable Suspension fork can efficiently reduce jerks

Quick skewer

High luminance for safety

Comfortable saddle 

Excellent quality and performance
Cons
Best Electric Bikes For Seniors FAQ'S 
Question: Does an e-bike require a driver's license?
Answer: In most U.S. states, e-bike riders are not required to have a driver's license, but it depends on where you live. We recommend consulting your local e-bike rules and regulations before hitting the road if you're not sure.
Question: How does the bike packaged and come protected from damaged?
Answer: The electric bike is packed with great care with tailor-made foam filling in the package to protect each component from damage. 
Question: Where do I take this bike if the motor has failed and not working? Most bike stores cannot repair motors
Answer: I feel that by the time the motor fails it would be time for a new bike to cost as much to fix as just buying a new bike
Question: the battery does not hold a charge. It only lasts 4 miles on low-mode/peddle assist. can this be resolved?
Answer: It sounds like you got a bad battery. If it is done from the start you should contact the seller.
Question: Does it have an odometer? Or can you redesign it to have one?
Answer: It has both a trip ODO and an odometer, tap the power button to display. The manufacturer seems to have locked the controls so that even the trip ODO can't be reset to zero, so it reads the same as the odometer.
Question: Can you pull a kids trailer behind with this bike?
Answer: Children's trailers can be installed, but the speed of electric bicycles is relatively fast. It is recommended to slow down when riding.
Question: What is the point of fat tire e-bikes?
Answer: Fat Tire bikes are fitted with Extra-wide tires (4″ inches or more). Taking the best parts of fat bikes and e-bikes have always made sense. The" fatter" tires provide extra grip, traction, and stability combined with low tire pressure, which makes them an attractive proposition for anyone looking to explore diverse terrain, better than conventional tires.
Question: What are the suitable height and weights for this Cybertrack 200?
Answer: Recommended height is 5.08-6.23 Ft. Max load capacity is 265 lbs.
Question: What class bike is this?
Answer: It is a class 3 e-bike. A class 3 e-bike can be throttle assisted or peddle assisted and can reach a legal speed of up to 28mph. I have done 28mph+ and I'm 6'2" and 230 lbs. That is of course based on the bike speedometer.
Question: Can a thumb throttle be installed instead of a twist throttle?
Answer: Yes I improvised one.
Question: What side of the handlebars is the throttle
Answer: The throttle is on the right side of the handlebars. Just like on motorcycles.
Question: Is there a governor that prevents it from going above a certain speed? Can I go faster than the 15.3mph cruising speed if downhill?
Answer: Yes, you may be able to go faster than the 15.3mph cruising speed if downhill.
Question: Do the tires have enough traction for dirt paths/gravel- not thick sand?
Answer: I took this on a steep, 10-mile mountain trail that had all different surfaces from gravel, rocks, leaves, sand, dirt, mud, and water. The few slips I had were user errors. The bike held up GREAT!!!
Question: Is the throttle for the electric mode the right handlebar grip similar to a motorcycle or is it a button located next to the digital display panel?
Answer: The throttle is a button next to the right handlebar grip.
Question: Is there a weight limit for electric bikes?
Answer:  Electric bike weight limits are usually set in the range of 220-300 pounds. Some models are designed to carry cargo and can hold weights even higher around 550 pounds. Electric bikes come in a variety of sizes and weight capacities and are being utilized for the young and old.
WHAT IS UL CERTIFICATION FOR ELECTRIC BIKES?
To help assess the safety of e-bikes and electrically power-assisted cycles (EPACs), we involved industry leaders in developing next-generation e-bike safety requirements for UL 2849, the Standard for Electrical Systems for eBikes. This Standard offers electrical and fire safety certification by examining e-bikes' electrical drive train system, battery system, and charger system combinations.
UL 2849 covers:
e-Bikes (typically sit-to-operate and over-the-road use) and pedal-assisted electric (pedelec) cycles

The risk of electric shock during charging over the life of the product, as well as other potential electrocution hazards

The Standard does not evaluate the operator's ability to maintain control while riding.
NOTE: The current UL certification limit for motor power is 750 W.
Best Electric Bikes For Seniors BUYER'S GUIDE:
We have discussed some important factors to check before purchasing an e-bike that can save you money and help you to get the best option.
E-Bike Type:
Three major types of E-bike are popular nowadays which include:
Traditional E-bikes

: The motor, battery, and controller are mounted in the hub of one or both wheels. they are suitable for traveling long distances and a good option for those people who bicycle as a hobby with no physical excursions)

Foldable E-bikes:

They are similar to traditional e-bikes but they have the best feature of easily folding so you can put them anywhere.

Recumbent E-bikes:

they possess elongated seats as compared to other e-bikes they are designed for seniors with back problems so they can ride pain-free.
Motor:
The e-bikes come with Rim, Hub, and center-mounted motors. the difference is only about the location of their mounting. if we talk about power then you must follow the local laws for e-bikes the motors comprise 250W, and 500W is most common for seniors because they are eco-friendly and easy to manage.
Battery:
You should pay special attention to the battery because it is important to factor to consider that the battery should be of large capacity and have prolonged charging time as it would be helpful in long-distance traveling. the most commonly available are lithium-ion batteries of 36v-48v and they must be easily detachable so you can easily charge. many e-bikes we have discussed also have fast charging capability which is a convenient approach for you.
Brakes:
The preferred brake type is disc brakes because they are long endurance and safer than others.
Range:
Another crucial consideration for electric bikes is range. This is especially important if you're planning on using your bike to commute with, While most bike listings include a general average range the bike will get, the true range you'll get with your bike depends on a few different aspects, such as the type of motor and sensors a bike comes equipped with, as well as battery life.
Bike Frame:
The weight of an e-bike depends on the frame and its size.to make it lightweight aluminum alloy is most commonly used which is durable so you can easily handle it effortlessly the frame of an e-bike may vary the important thing is that it should be adjustable according to your need and the handles should be soft and grippy so can get a comfortable experience.
Suspension:
Full suspension is going to provide the most comfortable riding experience, with suspension on both the front and rear wheels to absorb most of the shock on your ride. If you don't want to spring for full suspension, but still want something to absorb some shock and vibrations from the road, then the next best option is the front suspension.
Adjustability:
Once you've selected the model you want, keep in mind that it should be further customized! For this purpose the handlebar tape or grips, the pedals, and especially the saddle are your points of contact and control. Your hands, feet, and butt have to perch comfortably, and all of the bike's parts can be adjusted to fit you—for instance, with a new stem to lift the handlebars closer to your torso. A dealer can also add features for you that might not come with a bike, such as a bell, lights, fenders, or a luggage rack. But the key is in getting the fit right.
Conclusions:
E-bikes are powered by a motor, but they still need some physical effort .thats why you must decide how much cycling you can perform before having an e-bike. All the e-bikes we have covered are amazing and valuable for your money. we tried to find every type of e-bike for seniors with different purposes and features so can ride confidently and happily. Best of luck!