The current situation after Pandemic COVID-19 is hard for everyone .inflation of prices in every product that you are using makes it difficult to decide what is the best electric bike for the money.
We know electric bikes are quite expensive, but they are useful vehicles, not just a machine for playing around with or storing in your trunk. When you're carrying goods and riding down the steep hills at 20mph speed with only a helmet for protection, you want a ride you can enjoy and be safe.
What You Should Know Before Having an Electric Bike?
Electric bikes come with many different features of technical specifications that you may or may not care about. One that we do care about is the riding experience. The most important thing you should be aware of is your ebikes' motor type and it depends on that the purpose of use.
Hub motor drives are on more pocket-friendly e-bikes, where the motor is located in the hub of the bike's wheel.
Mid-drive motors, like Bosch and Shimano systems, are in the fitted center of the bike and transfer the power to the wheel through the chain. Mid-drive motors are similar to your pedal, but they may require more maintenance and energy.
If you travel in a hilly area, it's worth shelling out for a 500-watt or 750-watt motor and a little more, like hydraulic or mechanical disc brakes, which will help prevent you and your cargo from skidding into traffic. If you have a longer traveling mileage, you may also want to look for a dual-battery system, as the range on most e-bike batteries normally is 30 to 50 miles.
How it can be repaired?
Direct-to-consumer brands are becoming more popular, but many local bike shops won't work on them. I prefer bikes with bigger dealer networks that have more widely available parts and better customer support, and honestly, they tend to ride a little better.
What Is Federation Limit?
Before you buy your electric bike, make sure you can use it! Many cities and states have laws regulating when and where you can ride an e-bike. At least 22 states now use this three-class system, and they may restrict when and where different classes of e-bikes are used, depending on whether they have a throttle or can assist above 20 mph. Cities may also have laws about whether mountain bikes are allowed on single-track trails.
If your state classifies e-bikes under the same laws governing motorcycles and mopeds, you may need a license to ride one. And Helmet can save your life!
Here, we have discussed the best electric bikes for money in 2022, have a look and choose the one that is most suitable for you.
Best Electric Bikes for Money – Comparison Table
Schwinn Coston Adult Electric Hybrid Bike

Pedal-assist and throttle

Fucare, Fat Tire Electric Bicycles

Pedal-assist and full electric

NAKTO 26'' Electric Bike for Adult, Cargo Electric Bicycle

Pedal-assist and throttle mood

Add motor Motan Electric Tricycles

Twist throttle and pure electric

SAME BIKE 750W Fat Tire Electric Bike

Pedal-assist mode and pure electric

Heybike Cityscape Electric Bike

Pure electric and pedal-assist mode

Electric Bike, Tot Guard 27.5"Shimano 21S

Shaofu Folding Electric Bike

Swagtron EB-6 Bandit E-Bike

DJ Fat Bike 750W 48V 13Ah Power Electric Bicycle

Pedal assist,throttle,electric,hybrid,

Exercise mode
Best Electric Bikes for Money –

Product Reviews
1. Schwinn Coston Adult Electric Hybrid Bike, Step-Thru and Step Over Frames, Multiple Colors
Key Features
Motor: 250-watt brushless geared hub drive pedal-assist motor
Battery: 288-watt hour internal downtube battery
Frame: Lightweight aluminium frame
Brakes: Aluminum Mechanical Disc Brakes
Aluminum Double-wall Rims with 27.5\"x2.6\" Wire Bead Tires
Special: Head and Taillights, Fenders
Range: 35 Miles
Charging time: up to 4 hours
Gears:7-speed Shimano
Working modes: Pedal assist and throttle
This is the best utility electric bike that makes your everyday ride extraordinary. Meet up with friends across town or check out that concert in the park – you can do it all without worrying about long distances or steep hills. The Coston CE features a 250-watt brushless geared hub drive pedal-assist motor that amplifies the effort you put into pedaling, up to 20 mph. Choose between several levels of assistance, or ride without it completely – you're always in control. You can also use the throttle to accelerate without using the pedals.
Pros
sturdy

fast battery charging

lightweight, durable and adjustable step-thru frame

integrated battery design

smoother gear shift

U.S renowned brand 
Cons
Not suitable for all terrains

The motor is weak for mountain ride
2. Fucare 750W 15Ah Folding Electric Bikes 28MPH Shimano 7 Speed 20Inch 4.0 All-Terrain Fat Tire Electric Bicycles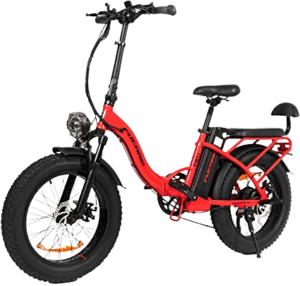 Key Features
Foldable
750W powerful motor
Shimano 7 speed shifting system
Tripartite shock absorber
Hydraulic disc brakes
40-60 miles range
28Mph maximum speed
Multifunctional LCD with the USB charging port
This Fat tire electric bike is hot new in the market! As it is an all-terrain winner you can enjoy riding up to 40-60 miles an extra long-range to the bicycle.
The design comes with a 15Ah high-capacity removable Lithium Battery,750W 48V high-speed blushless motor, the strong motor can make you get 28MPH max speed. With an inclined over 30°, you can easily climb over the hillside to any desired destination. Additionally, the Shimano 7-speed transmission control system, combined with a 4.0 All-terrain anti-skid tire. The LCD has FIVE speeds level that can be adjusted, you can adjust according to circumstances. You can do normal riding, pedal-assist riding, or pure electric as you like.
Pros
Easily two-step folding frame so you can carry everywhere you want

Suitable for all types of terrains so can enjoy unlimited fun

The tripartite shock-absorbing system provides the most comfortable riding experience

Waterproof wires

Amazing speed

95% pre-assembled
Cons
The speed exceed the U.S law limits, you need to check before buying

The secondary display could be difficult to check in sunlight
3. NAKTO 26" Electric Bike for Adult, Cargo Electric Bicycle Camel Style, 250W/350W Brushless Motor and 10.5Ah Removable Lithium Battery
Key Features
Motor: 250W
Variable speed: 6 speed
Battery: 36V / 10.5Ah lithium-ion battery
Wheel size: 26 inches
Frame material: Aluminum Alloy
Brake: Front V-brake, Rear Drum Brake
Suspension Type: Front Fork suspension
Speed: 16-22mph
Range: 20-25miles(throttle mode)-38miles(pedal assist mode)
Load capacity: 113.39kg/250lbs
If you want to carry some groceries while returning from work or you want to use your e-bike as Cargo then the NAKTO camel-style bike is a perfect choice!
NAKTO Camel E-Bike Made of lightweight Aluminum Frame, Equipped with 250w Brushless Powerful Motor and 36v 10.5ah Removable Lithium Battery, Which Provides Enough juice for the Electric Bike run. Save your precious Time and Avoid Traffic Congestion. It is Worth Mentioning That, They Provide a Free Basket and Bike Lock.
Pros
Very smooth ride on rough roads

The free basket helps you to carry goods

Great features with camel design

Flexible power with pedal assist and full throttle modes

Quick, fast, and amazing 
Cons
Small display lights

It is for only city use
4. Add motor Motan Electric Tricycles 750W 17.5Ah Lithium Battery Rear Basket Cargo M-350 P7 Ebikes Cruise Trike
Key Features
Battery: 48V*17.5 AH Lithium-ion Batteries 
Motor: Bafang 48V*750W Front Hub Brushless Motor – Special Design for Snow Beach Road Trail Etc.
Display: Add motor 5 Inch Backlit, 
Grayscale LCD, USB Type-A Port Below LCD Display
Distance: Single Charge Is 55-65 Miles Using the Level One Assist
Charger:2.5A US Standard Silver Fish Port Smart Charger
Charger Time: 6-7 Hours
Throttle Type: Variable Speed Control – 1/2 Twist Throttle
Fork: Aluminum 60mm Travel Suspension Fork
This the best cargo bikes for hauling Supplies and are Perfect for Picnics, Storing Your Groceries and Shopping Duties, or Giving Your Favorite Pet A Ride. Make Your Trips More Convenient. The Front Basket Gives You More Places to Put More Items, And You Can More Easily Take Out Items from The Front Basket While Riding, Making Your Trip More Perfect.
You will have the freedom to travel far further than on a regular trike and still be able to pedal for exercise. If you are an adult rider, the electric assistance is a feature that you would like to have.
Pros
Family cargo electric bike

Powerful motor 

The taillights are independent, so you can turn them on/off at any time

Long miles coverage 

Stable and comfortable

Competitive price
Cons
Heavy, maybe slow on roads

Long charging time.
5. SAME BIKE 750W Fat Tire Electric Bike 26" Electric Mountain Bike 48V/15AH
Key Features
750W powerful motor
a max speed of 25- 28mph
48V/15Ah large capacity lithium battery
31-34 miles per charge (electric mode) and 62-74 miles per charge (pas mode)
Mechanical disc brake and Shimano 7 speed
integrated headlight
3-5hour charging time
26″ x4.0 Fat Tire
SAMEBIKE has begun to enter the U.S market, hoping to bring high-quality electric bikes to more riders. This fat tire electric bike equips with an all-terrain and high-quality front suspension fork, providing better shock absorption, higher durability, faster-driving speed, and less resistance. It can not only be used for cycling on steep mountain slopes but is also suitable for urban cycling and commuting.
Pros
Good comfort grips, saddle, thumb throttle.

Fast battery charging time

suitable for a long-distance commute, steep mountains slope, cruise, snow fall.

Great ergonomy structure.

Equipped with full suspension for rough roads
Cons
Turbo-lag effect

Costly maintenance
6. Heybike Cityscape Electric Bike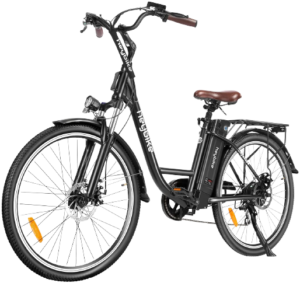 Key Features
Motor:350W Brushless Geared Hub Motor
Battery: Removable 36V 10Ah removable lithium battery
Speed:19mph Top Speed
Miles coverage: Up to 25 miles(pure electric)/40miles range per charge (pedal assist)
Brakes Type: Dual Shock Absorber&Lights & Brakes
Design: Low-Step Frame Design
Modes:3 WORKING MODES (Pure electric mode & Intelligent 3 level pedal-assist mode and manual mode)
Gear systems: Shimano 7-Speed
Wheel size:26″ x 1.95" puncture-resistant
It's a perfect choice to improve your commuting experience. The electric bike already comes mostly pre-assembled so you won't have to waste time with the complicated assembly. The integrated rear rack can attach panniers, platforms, or baskets and let the bike carry your cargo and next adventure. Hey bike electric bikes combine modern technology with traditional bicycles to produce low carbon, green, high-quality electric bikes that will save time on the road, make off-roading more enjoyable, and make life easier and more fun.
Pros
Amazon's choice

Quick removable modular battery lets you can charge the battery pack on or off the frame.

Adjustable frame for a comfortable ride

Freedom to store and use extra space for your belongings

Powerful gear hub motor Environment friendly
Cons
Delayed battery charging time

Only for urban use
7. Electric Bike, Tot Guard 27.5″Shimano 21S Gears Electric Bike for Adults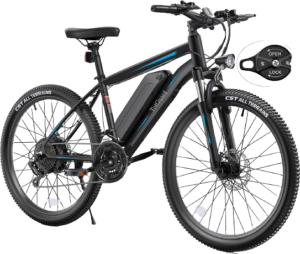 Key Features
500W POWER
21.6MPH MAX SPEED
48V 10Ah Lithium Battery, Rechargeable
Foldable
Intuitive LED Display
This is the best Folding electric bike if you want to carry it everywhere you want. Instead of a normal foldable mountain bike, you can be able to go far away and explore more places with this TotGuard 27.5″ electric mountain bike for riding with less effort.
This Foldable bike comes with an amazing design of a lightweight Aluminum frame having a lockable suspension fork for less bumpy on rough roads and has Sports style, streamlined matte surface, and Simple decal style that built an amazing look.
Pros
Lockable suspension

Easy assembly

Cargo space

Large tires as compared to other e-bikes.

Futuristic sleek design

Dual disc brakes for a safe and smooth ride.
Cons
Large wheels may be tough on rough roads

Mudguards, headlights are sold separately
8. Shaofu Folding Electric Bike– 350W 36V Electric Bicycle Waterproof E-Bike with 15 Mile Range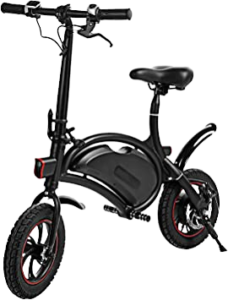 Key Features
Motor:350-watt powerful hub motor.
Battery: 36-volt lithium-ion battery.
maximum speed: 25km (15.5miles) /h (app adjustable ).
Miles coverage: 132lbs / 20Km(12.4miles); 165lbs/ 17Km(10.6miles).
Modes: electric only
Brakes: rear disc-braking system.
Lightweight aluminum frame and wheel frame.
12inch wheels
weighs 12kg/26.5lbs
Bluetooth support systems
IPX5 Waterproof range
This is one of the best Affordable folding E-bike. The material used in the construction of the frame is pure aluminum to make it foldable easier also the wheels are coated with double-layered aluminum alloy . . It provides Both good anti-pressure ability and a lightweight frame & easily fits in trunks of all sizes.
The folding electric bike weighs a mere 12KG/26.5lbs, making it a breeze to carry up a flight of stairs, you can also leave it anywhere in your office. Additionally, it is an eco-friendly folding e-bike because it is 100% electric with 0% emissions, saving your pocket and nature. The bike is equipped with waterproof components so you can enjoy a ride on the roads during rain.
Pros
Appealing look and design 

Lightweight and folding design that makes it a breeze to carry up a flight of stairs.

Waterproof E-bike so cannot miss your trips in rains

The Bluetooth supporting system makes it easier to control your bike

The 100% electric bicycle features with front headlight & braking taillight and horn for better safety

Durable aluminum frame 

Adjustable seat and comfortable ergonomic

Free from carbon

Very Fast charging time,3 hours
Cons
Not suitable for trails

350W motor but still not so much powerful
9. Swagtron EB-6 Bandit E-Bike 350W Motor, for Trail Riding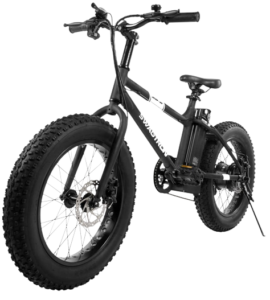 Key Features
Power:350W electric hybrid motor
Battery: 36V 7.8 Ah Li-ion
Speed: Shimano SIS 7-Speed Indexed Gear Shifting
Modes: 20 mi / 32 km (varies with individual use),
Wheel size: 20" front/rear air-filled
MF-TZ21 Cycling Freewheel
 Hybrid mode only
The EB-6 is perfect for the uphill steep path it owns amazing features to satisfy any user and with a lightweight durable frame.it has a removable battery so you just take it out and charge anywhere you want. With charging time under 5 hours, you'll have plenty of time to commune with nature, sit through classes, or just enjoy the sights at your destination before grabbing your mountain e-bike and hitting the road again. anything thanks to a design featuring tried and true Shimano parts including a 7-speed SIS shift system and freewheel. Shift gears easily, cruise, and more with the EB-6 E-Bike by SWAGTRON. 
Pros
Antiskid tires provide safety on trails.

Smooth riding experience 

83% effortless
Cons
Sometimes harder to drive on trails.
10. DJ Fat Bike 750W 48V 13Ah Power Electric Bicycle, Matte Black, LED Bike Light, Suspension Fork, and Shimano Gear
Key Features
MOTOR: 750W extending to 1000W peak power Bafang motor
Battery: 48V 13Ah large capacity
Lockable front suspension
5 level speed
Shimano 7-speed Shimano
Adjustable seats
4.0" Puncture resistant tire
Riding Range: 40–60 km (25-37 miles)
Digital LCD Display 
DJ Fat Bike is a Luxury e-bike used for all-purpose.it is a powerful electric bike built with high-quality mainstream components. The bike is super fast and affordable and can bring unlimited fun! This performs perfectly through the urban commutes or on light off-road trails with an integrated front headlight and shock absorbing suspension.No matter! Whether you are a commuter, senior, casual rider, or sports fan, this is the bike built for everyone.
Pros
Removable battery with the battery lock

It conquers all terrain

Stable and very sturdy

Environment-friendly motor

All accessories included, including front & rear fenders you don't need to purchase separately

Preload adjustment suspension fork for the fantastic ride experience

Extra width fat tire provides you stability on bumpy tracks
Cons
Expensive maintenance

No waterproof cables
Best Electric Bikes for Money FAQ'S :
Question: Do NAKTO tires have schraeder or presta valve stems?
Answer: This e-bike uses the very common "Schrader" air nozzle
Question: What height range is required for this bicycle to fit?
Answer: Glad to answer you! Recommend rider height above 5.5ft.
Question: I am a young 66, 5'4 woman. will I be able to put my feet on the ground while seated on NAKTO? 
Answer: Yes, the NAKTO Camel is suitable for riders of 4'10"-5'9″ in height.
Question: How much weight will an Electric bike can hold?
Answer: The Design Fit For 5'2″-6'6″ And Maximum Carrying Capacity of 350 Pounds,
Question: How many mm is the handlebar of the e-bike?
Answer: The handlebar width is 740 mm and the rise is 95 mm.
Question: Is the battery removable to charge in the house?
Answer: The battery on the Electric bike is removable and can be charged in your house. The owner's manual provides details on how to remove and store the battery.
Question: What size handgrips of Coston Ebike?
Answer: The hand grips are 130 cm.
Question: Can you overcharge the battery? Does it have an auto-shutoff when finished charging?
Answer: The answer is no. you can not overcharge the battery with a BMS which prevents this. also, the battery charger will stop charging when it detects that the battery is fully charged.
Question: What is the frame size of the DJ Fat tire bike?
Answer: The frame is 19″ and the wheel size is 26″. I usually recommend riders between 5″4 to 6″4″ to ride this bike comfortably.
Question: Which part of the e-bike should be waterproof?
Answer: All electrical devices including the motor and battery pack are water resistant meaning that you can ride the bike under the rain. However, please try to avoid riding the bike under extreme weather like a thunderstorm.
Best Electric Bikes for Money Buyer's Guide:
If you are going electric bike for the first time then you must keep in mind some important points given below:
why removable battery?
Because many e-bike batteries will manage rides of about 40 miles and need to be plugged in for at least a couple of hours to get to enough charge capacity. So if you have a more demanding commute, consider a model that lets you take out the battery easily rather than a bike with a fitted one. It will help you out anywhere even you can have a spare one in case the battery is nonfunctional
Which working modes are better to choose?
Electric bikes Fall into two categories: Pedal-assist and throttle mode. The motor on a pedal-assist electric bike will need a kick start even if you're actively pedaling, whereas a throttle electric bike will bound you along even when you're not pedaling. Both types have their advantages: electric bikes with throttles allow you to kick and enjoy the ride, but pedal-assist electric bikes will offer a longer ride on the same battery charge.
Some electric bikes offer 5-level assist which is the most luxurious one, and many let you set the level of pedal assistance if you want to get more of a workout or want to save your bike's battery.
Classification of electric bikes according to U.S law:
There are three main classes defined by the government licensing department
Class 1: Ebikes that only assist while you pedal, with a top speed of 20 mph.
Class 2: Ebikes with a throttle that doesn't require you to pedal but has a top speed of 20 mph.
Class 3: Ebikes that only assist while you pedal, with a top speed of 28 mph.
Note: always wear a helmet it saves you and your loved ones.
Conclusion:
In this article, we have discussed in detail the e-bikes that are worth your money and time. It is also helpful for the type of purpose that you want to have with your e-bike so select the best one that fulfills your requirement and enjoy the ride with freedom and fun!