A women's e-bike is different from conventional e-bikes in terms of ergonomic structures, practical needs, designs, appearance, and portability also in mechanical terms they have specific features including motor powers, step-thru frames, adjustability, and purpose of use like cargo, cruiser, trailing—meaning there is a range to meet the need of your riding and making it fun! They can help you drive more with fewer efforts and go further faster .you can enjoy a little bit of workout with cycling by simply changing the modes to keep you healthy and active.
Selecting the best e-bike for females is a difficult task but the good news is that we have sorted out the perfect options that will meet your criteria for choosing an e-bike.
Here are our top picks for women's electric bikes.
Best Electric Bikes for Women – Comparison Table
NAKTO/SPARK Electric Bike

ANCHEER AE4 Folding Electric bike

Maxfoot fat tire Electric bike

Swagtron EB-10 Electric Bike

Trek power ELEGANCE/

NJT003 Electric bike

ECOTRIC 26" Fat Tire Electric Bicycle

Trailing, snow, beachside
Best Electric Bikes for Women –

Product Reviews
1. NAKTO/SPARK 20-inch Cruiser Electric Bike Women-Best Commutator electric bike
Key Features
250W powerful brushless motor.
36V 10Ah removable battery.
Max speed 18-22mph
Mileage 22-26 miles
20-inch wheel size
Disk brakes
It weighs 60 pounds
A complete featured Cruise style e-bike designed for casual riding and has a very comfortable geometry and riding posture which is very important for ladies to prevent backaches.Nakto/spark is a reputable brand for manufacturing such an amazing product to make your ride easier and full of joy!
Nakto cruiser electric bike is equipped with a powerful brushless motor that speeds up to 18-22mph and is quite sturdy. it consists of Three working modes: Pure electric bicycle, Auxiliary bicycle, and Bicycle mode. the Auxiliary bicycle adopts a higher-end 1:1 power assist system (PAS technology), a new type of human-computer interaction technology, making riding effortless. Combine the three modes and choose according to your needs and enjoy cycling.
This e-bike features a large capacity lithium-ion battery of 36V which is easily removable and waterproof so you can make a plan for riding on rainy days. it covers 22-26 miles distance on a single charge thanks to its quick charging battery system. Additionally, it is constructed with a durable 26" high-strength carbon steel frame with a suspension fork brake system. other auxiliary component includes a basket, tool kit, and lock attached for a more convenient riding experience also the company is offering a 1-year warranty.
Pros
Large capacity battery
Comfortable ergonomic design
Three working modes
Fast charging time 4-6 hours
Easy to assemble
Maximum loading capacity of 280L
Cons
You might feel difficulty in speed mode shifting.
No proper height adjustment.
2. ANCHEER AE4 20" Foldable Electric Bicycle with 36v 8ah Removeable Lithium, professional 7-speed gears -Best Folding e-bike for women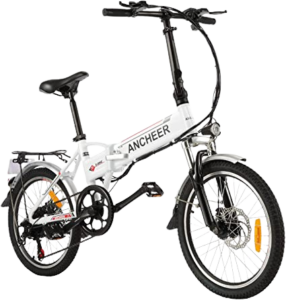 Key features:
Motor: 250 regular/350w peak power output
36v/8Ah lithium battery
Wheel size: 20inch
Max speed 17Mph
Mileage: 15-25 miles
Disc brake
Front fork suspension
Weighs only 44Lbs
ANCHEER AE4 20 inches Folding Electric Bike is still manageable while the riding quality is generally better than the small 16/12 inches wheels. Front and rear disc brakes fully protect your safety. The front fork is made of high-strength carbon steel and packed with premium comfort shock absorption, double layer aluminum alloy wheel. Strong brakes, high-strength carbon steel comfort shock absorption, and a 7-speed professional transmission system offer all the qualities of a premium bike. you will get a more stable and comfortable bike. If you have to deal with hills and bumpy roads and need your bike folds down, you will appreciate the Ancheer 20-inches folding bikes.
The mid-mounted antitheft, removable 36V 8AH lithium Ion battery, equipped with a smart lithium battery charger can make you ride up to 25-50 km and also maintain stability. With Easy Charge Port System, The electric folding bike can be charged on or off the frame easily the addition of a battery indicator assists you a lot. The bright LED headlamp and horn are equipped for night riding.
The  AE4 is installed with three working modes (E-bike & Assisted bicycle & Normal bike) With the LED 3-speed smart meter button, you can choose the electric assist power according to your needs. You can add a burst of speed with the throttle, which is ideal for pulling away from traffic lights. Combining three modes would be a better choice.
Thanks to its collapsible frame design which allows quick foldability so you take your e-bike everywhere you want or store it. the e-bike is designed with adjustable handlebars and saddle designs with 6 adjustment options(A, B, C, D, E, F) so you can adjust it according to your height and ride with fun.
Pros
Foldable e-bike
Portable, fast and flexible.
Assisted biking system prevent stressful riding
85% pre-assembled
Battery indicator
Built-in battery, anti-theft, maintain the balance of the frame
Customizable for exercise
Cons
Not suitable for all terrains
With less gripped tires, one can easily be dumped on applying sudden breaks.
3. Maxfoot  26″ Fat Tire 750W Step-Thru Electric Ebike MF-17 Bicycle – Best Mountain e-bike For Women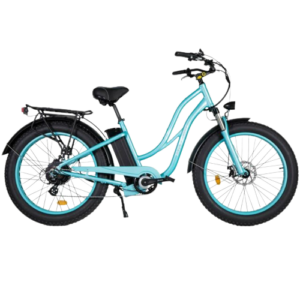 Key Features:
750W sturdy motor
13Ah large capacity lithium battery
20-20Mph speed
8.5Nm motor torque
Max. range 45-55miles
Lockable suspension
26″ x 4.0″ Tire, Spoke Wheel
Integrated head/brake lights
7-speed gear system
MF-17 is Maxfoot's first step-thru electric bicycle designed for women. The lightweight aluminum frame design allows you to ride easily, and It is convenient to get on and off the bicycle. In terms of performance, the  MF-17 has a more powerful 750W motor. At a rated power of 750W, the max foot motor can output at least 1050W of power. It is very zippy, you can feel the power surging through the setup. Mechanically it has 7-speed Shimano gears with 14-28 tooth cassette, to make sure that you can ride at different terrains. it consists of two mechanical brakes, both of 180mm alloy discs in the rear and front. Mechanical brakes require less maintenance and are easy to adjust. Furthermore, the MF-17 e-bike possesses motor resistors on each bake handle, it acts as a power cutter to the spring motor in case of emergency.
It consists long-range removable lithium-ion battery which is supposed to allow the riders to go for 45-55 miles using pedal assist level one before recharging. Charging time is only for 4-5H once time. The maximum speed can be 22-23 MPH, which strictly obeys the regulation of U.S bicycle law.
The most appealing feature of the max foot e-bike is its hidden wiring, hidden in the frame with a unique design. Make the overall appearance of the vehicle more elegant. at the same time, this wiring system also greatly reduces the exposure of wires and prevents the wires from being damaged due to external which means the bike is specially designed by keeping in mind the safety aspect.
Additionally, the e-bike consists of 4 electric modes including  Electric-Cruise bike & PAS mode & & Throttle mode & Normal bike mode. With the 5''Large LCD Screen and M button, you can choose the electric-assist power according to your needs. You can add a burst of speed with the throttle, which is ideal for pulling away from traffic jams.
The comfortable ergonomic design of MF-17 allows you to ride without tiredness moreover curved handlebar allows adjustment to support various arm lengths and a more laid-back riding position and improved body posture with a thick padded saddle design. All in all, this e-bike is our cost-effective model for females with amazing journey experiences.
Pros
Very sturdy motor
Fast charging
Hidden wiring with water-resistant connectors
Integrated LCD for safety
Comfortable seats and handles.
Smooth riding on bumpy or uneven terrains\
Durable
Cons
Fat tires are not good for roads.
Not eco-friendly.
4. Swagtron EB-10 Electric  Bike with 26″ Wheels, 36V 7.5Ah Removable Battery -Best Cruiser e-bike for women
Key features
250W motor
36V /7.5Ah removable battery
Covers distance up to 28miles
16.5MPH maximum speed
26 inch wheel size
E-bike weighs 50.7 lbs
Shimano 7-speed gear system
Step thru frame
If you are searching for purely comfortable and smooth ride than EB 10 is perfect choice!The connection of a 36V lithium battery with a 2,50W motor delivers the maximum performance you'll love. and engaging the pedal -assist, will immediately add the power underfoot so, you can go farther and fast effortlessly. With Shimano, you have the true riding versatility that you crave, with a quick-shift gear system that gives you ultimate control to make your riding experience as challenging — or as comfortable — as you want. Shift up on the fly with a press of a button. Or use the gear shift lever and find the perfect gear to overcome those difficult hills or steep, 25-degree inclines. Go easy on your knees or give your quads a workout. And all with that satisfying "click" sound when you shift gears.
Featuring the three riding modes: pedal-only,pedal-to-go, or throttle only you can easily cruise down the street or around the neighbors and let the swagtron e-bike deliver extra energy to reach the campus. its upright design let you ride with reduced strain comfy handlebars that keep your wrist natural and a soft ergonomic structure that will help you commute with fun.
EB10 is constructed with a high-grade steel frame and front fork to offer maximum durability. The handlebars, rims, and braking hardware are made from aerospace-grade 6061 tempered aluminum. This electric city bike is lightweight while maintaining high standards of durability, able to support riding capacity up to 264.5 pounds.
additionally, this electric bike has cruiser-style tires 26inch that possess enough volume to deliver an adventurous ride also solid grip and shock absorption when riding .so everything you need for an amazing ride with its other components include a digital LCD odometer and battery display, bell, front and rear fender, and adjustable seat. And the battery mount also pulls double duty as a cargo rack for increased utility. Moreover, the company offers a 1-year warranty .
Pros
Affordable e-bike with all features
lightweight
Smo other ride
Low 21" step-thru frame
7-speed quick gear shifting
Lockable battery
Long lasting battery
Cons
5. Trekpower ELEGANCE/NJT003 22″ 250W 36V 10A Detachable Lithium battery Electric Bicycles -Best Trendy E-bike For Women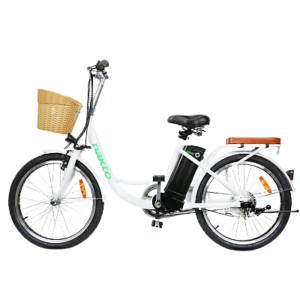 Key features
250W Brush-less Motor
36V 10AH removable battery
22" Fat tires
Max. speed 20MPH
Distance covers 25-35 Miles per Charge
Distance covers 30-35 Miles per with Pedal Assist
3 working modes( electric, PAS, Ride)
Front dual suspension
Trekpower is a renowned manufacturer for making products with high quality and outstanding e-bike systems at a price that can't be matched so, the NJT003 is the best choice to amplify your power so you can enjoy the best parts of riding you can commute, cruise and workout.
This super ranger e-bike is equipped with a powerful eco-friendly 250W motor because it is brushless produces less carbon and makes your surroundings green. It is centrally mounted with a large capacity 36V 10AH Tianneng Removable Waterproof Lithium Battery which produces maximum torque up to 10% exhibiting the maximum speed of 20MPH which is ideal. the battery is not only of high quality but it also has a battery life of 1000 cycles with a minimal amount of charge 2.0A.
Trekpower is a very trendy e-bike constructed with a carbon steel frame that is durable. with 22" fatty tires, You Will Have No Problem Cruising Over Sandy or Snowy terrain and Enjoying the Ultimate Electric Biking Adventure! Additionally, it has a front dual suspension which prevents you from jerking over bumps. According to its mechanical features Combining 2 Modes (E-bike & Assisted bicycle)Would Be a Better Choice, Select-able Pedal Assist or Twist the "Variable Speed Throttle" for Hours of Enjoyment, Turn On/Off the Pedal Assist. The handlebars are so soft and the front attached basket will help you to carry your goods easily .morever the company is offering 24 months of warranty so enjoy the quality ride.
Pros
Stylish look
Powerful e-bike
Eco-friendly
Quick charging within 4 hours
2 years warranty
Can conquer all terrains
Cons
Not adjustable frame
Expensive
6. ECOTRIC 26" Fat Tire Electric Bicycle Powerful 500W Motor-Best Mountain E-Bike for women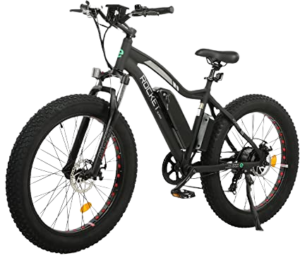 Key features:
500W strong motor
36V/12.5AH removable lithium battery
18.64-33.55 Mile
26*4.0 " wheel size
SHIMANO 7-speed drive system
4 working modes
Gross Weight: 70 lb.
Installed speed sensor
The most intuitive feeling that Ecotric Electric Bike gives you is super fast. It's designed according to the golden ratio and ergonomics. The geometry of the upper and lower tubes makes the whole bike look like a rocket ready to launch. It also has a MOZO front suspension and 26-inch fat tires that allow you to go wherever you want, regardless of road conditions. And significantly improve the comfort of riding. This is the perfect electric bike that looks awesome to ride on trails.
Ecotric is a Powerful e-bike with a 500W rear motor, providing strong torque. This rocket electric bike is designed for off-road cycling and weekend adventurers so can draw your daily stress due to hectic routines. Whether you're camping, hunting, fishing, or cycling long distances on rugged trails or mountain roads. The maximum output speed is 23.6 Mph. The large capacity 36V/12.5AH removable lithium battery is enough for long-distance trips. the approximate charging time is 6-8 hours with power lock functions. Also, you can bring the battery to your home or office to recharge.
This e-bike features 4 working modes depending on your need for riding which include 1. Pedal Assist Mode: The motor will assist you with a moderate amount of power as you pedal the bicycle. 2. Fully Electric Mode: Twist the throttle in any increments of power you desire to power the motor of the bicycle. 3. Pedal Mode: Pedal the bicycle normally as you would any bicycle. 4. Booster Mode: The Ebike will travel at 6 km/ h (3.73miles/h), easy to push. overall ecotric is the cost-effective mountain e-bike constructive  Lightweight but strong enough aluminum alloy frame, coupled with a suspension front fork to effectively absorb bumps also 26*4.0 " Fat tires will help you conquer all terrains smoothly and effortlessly. Additionally, It is equipped with an S900 LCD, which can display cycling data and charge mobile phones. also, the company is offering 2 -a years warranty so enjoy and have the best experience with the Ecotric mountain e-bike.
Pros
Light weight
Puncture resistant tires
Powerful mountain e-bike
UL- certified
Quick installation
Variable working modes
Cons
Fat tires may be rough on city roads
You might feel difficulty while switching working modes in the beginning.
7. VIVI  C26 Shimano 7 Speed Commuter Bike 20MPH & 50 Mile Range–Best Affordable Electric Bike For Women
Key Features:
500W rear Hub motor
48V 360Wh lithium-ion battery
26 Inches wheels
22-25 miles (Electric Bike Mode) and 40-45 miles (Pedal Assist Mode).
Max Speed: 20MPH
4 working modes
Shimano 7-speed gears
Disc brakes
Ebike Weight: 62.36 lbs
Whether you're looking to enjoy your daily commute or explore the countryside on the weekend, this classic VIVI C26 e-bike makes for a fast, easy ride on city streets and trails alike it is equipped with500W rear-watt hub motor provides a powerful boost up to 20 mph and 48V 360Wh lithium-ion battery pack that gives perfect juice to reach 22-25 miles. Featuring  7 speeds, a low step-through frame, height-adjustable swept-back handlebars and saddle, bright lights, chain guard and fenders to protect your pants, and add-ons like a rear rack. Enjoy a fully functional rig, the VIVI C26 electric bike is perfect for riding to work or just cruising around town.
Additionally, it is designed with effective fork suspension to reduce the large impact during the ride. and the Soft saddle for cruising and adventuring on muddy trails, grassy hills, or any other terrains. The low-Step frame design provides a more natural and relaxed experience for a wide range of riders. Furthermore, the VIVI C26 commuter bike has integrated front and rear lights for safety. And the rear light activates and brightens on braking. the company is offering a 1-year warranty.
Pros
Efficient motor
Best shock absorption
Adjustable height and angle handlebars: 43.7″–46.06″
Quick charging
Soft saddle and handlebars
Economic
Built-in Over-voltage sensor system
Cons
Available in single color only
Peddaling option may not be great
Best Electric Bikes for Women – Buyer's Guide
We have gathered some important point that you should keep in mind while purchasing you e-bike because we value your money so let have a look on them.
MOTOR:
There are two types of motors installed in e-bikes Hub-drive and mid-drive motor. The difference is their locality of mounting both are good and if we talk about the power 500W motor is enough to fulfill your speed requirement with sufficient torque.
BATTERY:
The battery is the main component of an e-bike mostly they are equipped with 36V lithium batteries which are powerful and efficient They must be detachable so you can charge them everywhere or continue your journey with a spare one. Some of the e-bikes come with lockable functions so you can prevent them from thieves and also water-resistant batteries are safe to drive while raining.
FRAMES:
Being a female you should go for a lightweight e-bike with the lightest frame mostly they are made up of aluminum and carbon fibers. Framesize along with battery and motor contributes to total weight so a lighter e-bike will likely feel more nimble and wide providing you a smoother ride. additionally, the frame should be adjustable up to 38" for women so you can easily step through or adjust it according to your height for a better riding experience.
Other components including lights, racks, and brakes can be customized according to your need and purpose of driving mostly e-bikes have inbuilt security like speed sensors, voltage sensors, and bumps sensors to prevent you from any mishap while riding.
Best Electric Bikes for Women – FAQ'S
Question: Are e-bikes safe in rain?
Answer: Yes, electric bikes can get wet. Although most e-bikes are water-resistant, which means riding or parking them in rain is perfectly fine.
Question: What is a hybrid electric bike?
Answer: An electric hybrid bike is just like a normal hybrid bike but equipped with an electric motor that gives you additional power to your pedaling action. This can help you get some exercise or move around quicker and more comfortably.
Question: How fast do electric bikes go?
Answer: An average electric bike can be as fast as 20mph. However, electric bikes can only go as fast as 28mph and do not go more than this figure. Even the most powerful electric bikes will only limit the motor to 28mph.
Question: Are electric bikes healthy?
Answer: Alongside cardiovascular health improvements, riding an e-bike regularly can also see improvements in your heart health too. As your heart works a little harder while you perform physical activity, it beats faster and stronger to keep your blood pumping around your body.
Question: Can you ride a bike in the snow?
Answer:  Yes, you can ride your e-bike in winter. Even if snow has piled up on the roads and conditions are wetter and more slippery than usual. You only need to be willing to take the time to prepare yourself and your e-bike for those weather conditions.
Conclusions:
Whatever purpose of riding you are planning with your electric bike, we've compiled a list of the best options for ladies to save your money and get the best one! many of them are truly women-specific versions with all bells and whistles and provide enough juice to boost your ride. they also have a wide range of variety and appropriate designs for women we wish you good luck!